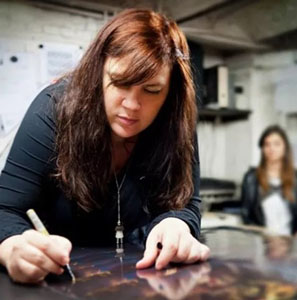 Born on January 19, 1969 in Genoa, Italy. After graduating from the School of Architecture, she became a commercial artist and illustrator. In 1996, she began to cooperate with the Disney Company. As an illustrator, cartoonist and designer, she participated in various innovative projects.
Together with Alessandro Babucci, she founded a new magazine W.I.T.C.H. in 1997. They participated in drafting projects, creating characters, backgrounds, and graphics, which made them a huge international success since April 2001.
At present, W.I.T.C.H. is the world's fourth best-selling magazine (with sales of more than 50 million copies), published in many countries and won many national magazine awards. Barbara Campa and Alessandro Babucci are also graphic designers of MONSTER ALLERGY. The children's comic was published by French Editions Soleil in March 2003, followed by German Carlson and the current Issued by Egmont.
In 2004, produced mensuel éponyme (mensuel éponyme) for the Walt Disney Company. Since January 2006, the TV animation series has been produced by Rainbow Futurikon and Disney Channel. In 2005, he was hired by Warner Bros., USA, and the series was broadcast on Cartoon Channel and M6. MONSTER ALLERGY is the first European cartoon acquired by Warner.
Since 1997, they have dedicated themselves to the sci-fi legendary sky doll, and they have been published in more than 12 countries including France Editions Soleil, Italy, Spain, Portugal, Germany, Greece, Serbia, and Russia. The series has been praised and criticized by the public in recent years in all European countries as the best series of the year, the best image and design awards.
---
Selected works