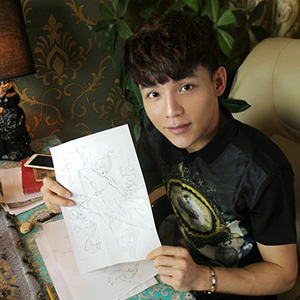 Liang Yi, a person with transparent screen name, is from Guilin, Guangxi, and currently lives in Beijing. Engaged in the original design of comics and games for 16 years, specializing in game original design, poster illustration, founded Beijing Toomingtang Culture in 2012, to prepare for his own original trend animation related products in the future.
Books published: "Stories of the Three Kingdoms", "Concept Design of Transparent Man Game", "Sketching Time", "Six Sketching Lessons".
I have been to (Shanda, Sohu, Music Element, Shanghai Xindong Network, Communication University, Mars Times,) to give lectures, and was specially appointed by the Chinese Academy of Opera as the lecturer of the "Game Design Fundamentals" course and WACOM lecturer.
The trendy IP image of "Fruit Zoo Series" created in 2018 is very popular among netizens. Among them, Huju is the most popular, and Peach Monkey and Pear Cat Prince are on the market evenly.
In 2020, he won the third prize of the Book of Legends-National Comic Hero Contest.
---
Selected works