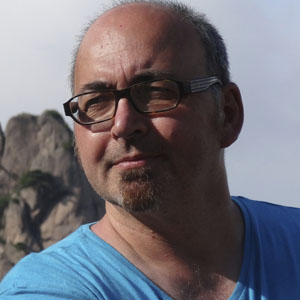 Thierry Robin, a famous French cartoonist. Born in Damery, France on September 30, 1958, he became the first batch of animation students at the Reims Academy of Fine Arts after graduation. After many years of animation major, he moved to Brussels, Belgium.
After graduating from the animation major, he began to engage in comics creation. In many years of creation, Robin formed his own unique painting style and very imaginative colors, and became a famous comic master artist in the European and international comic industry. Robin is keen to describe Chinese culture. In order to explore the mystery of Chinese comics and make Chinese comics art more known, Robin not only began to learn Chinese, but also in 1987, 1991, 1994, 2005 and 2014. During his visit to China, he visited many Chinese cities including Xinjiang, Yunnan, Tibet, Qinghai and other ethnic minority areas. The representative work "Red China" is still printed every year since it was published in 1989, and is a classic in the history of French comics. Robin's other work "The Death of Stalin" was adapted into a movie in 2016 and was released in France, the United Kingdom, and the United States.
In 2015, Robin created a comic story of the same name based on the world cultural heritage "Hailongtun" unearthed in the suburbs of Zunyi, Guizhou Province, and used his unique perspective to interpret the story of the last tusi castle in Chinese history.
---
Selected works